Health & Fitness
MyHealth Medical Centre
Myhealth Kirawee is a Bulk Billing Medical Centre now open at South Village Shopping Centre. Appointments and walk-ins are welcome.
Our new centre boasts our new sophisticated look, so not only will you be impressed by your surroundings but you will also be receiving the best medical care from our team. Myhealth owns and operates over 70 quality medical centres across the Eastern Seaboard of Australia. All our purpose built centres offer the highest standard of medical care with state-of-the-art facilities. We pride ourselves in offering a friendly, convenient, accessible and professional service to all our patients.
Our comprehensive medical service includes GP medical services, Nursing care, Pathology, Cosmetic clinic and Allied health. Our full range of medical services include:
· Male and female doctors
· General Medicine
· Pediatrics
· Women's and Men's Health
· Immunisations
· Travel Medicine
· Skin Checks, Minor Surgery
· Mental Health
· Sexual Health
· Work related injuries
· Cosmetic procedures
Book online or phone our friendly reception staff.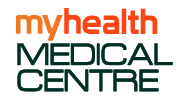 MyHealth Medical Centre Trading Hours
Monday
9:00 am – 5:30 pm
Tuesday
9:00 am - 5:30 pm
Wednesday
9:00 am - 5:30 pm
Thursday
9:00 am - 5:30 pm
Friday
9:00 am - 5:30 pm
Saturday
10:00 am - 1:00 pm
Sunday
Closed